Steve McDaniel's Fishing Page


Welcome to Steve McDaniels Southern Oregon Fishing Page. On this page you will find information on fishing in Southern Oregon, and some pictures take from trips aboard the Prowler and the Barbara K out of Bandon. If you would like to add links, send me an e-mail.
Below you will find some pictures of trips I have been on.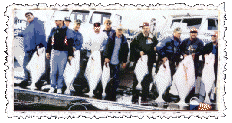 This is a trip I took in May of 95. I am the guy on the left holding a 47 pound halibut. For a bigger pic of my fish, click here. Everyone on the trip got a halibut, and it was lots of fun. Last year I also went, but only caught about a 30 pound halibut, so I am not gunna show you that pic hehehe.
Here is a picture of Wesley, a regular, holding on to a 25 pound ling cod. That is one hell of an ugly fish, but they sure do put up a good fight.
I have decreed that I shall keep bottom fishing, till I get a ling cod that is that big. to date, my biggest was only 12 1/2 pounds. Move over Wesley, Hello Steve hehehe.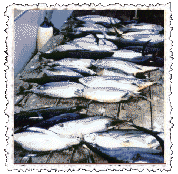 I have to confess, I have yet to go out on a Tuna trip, but I do know this, it's not cause I don't want to. Imagine hooking up with the 10 pound equivalent of a mack truck. These fish are running on 100% high octane adrenaline, and the only thing they wanna do is get off the line, or rip your arm off. Maybe next year I will get a chance to go on one of these.





All of these were caught out of Bandon while fishing with Prowler Charters. If you would like to go out and try your hand, give them a call. The number is 1 (800) 634-9080. Tell him you saw it here on the internet. You can also book charters through Port o' Call at 1 (541) 347-2875. Port o' Call also has Crab Ring rentals, pole rentals, electronic equipment, fishing bait, tackle and gear. Give Tony a call.

What do you get when you combine one small kid, a 2 1/2 foot long Mickey Mouse Pole, and a good stretch of water? Well I think the picture sums it all up, as dad holds up the nice trout, Jeremy just smiles. I may just have to get me one of those poles, think it will work on Halibut?






Agama

Pendidikan

Hiburan

Akhbar & Majalah



Komputer

Poskad

Wallpaper

Malaysia


Laman Utama